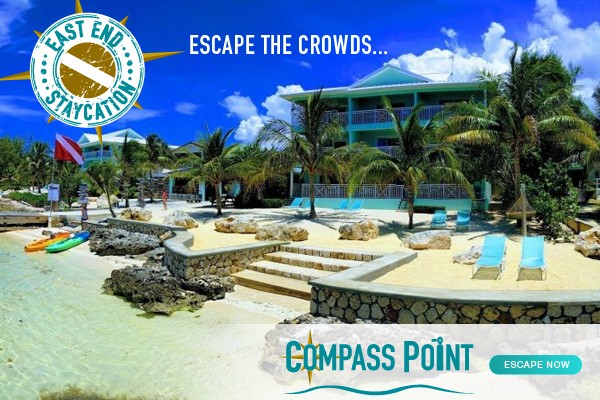 Cayman Residents Escape Here...
Cayman Residents Escape to East End, explore and enjoy the otherside of the island with Compass Point Resort... you don't have to be a diver to stay here.
After 19th July 2020, most COVID-19 restrictions will have been eased, so take this opportunity to venture outside of your bubble and see the far side of Grand Cayman, above, below and on top of the ocean. Do as little or as much as you like by tailoring your staycation to you and your family's needs.
If you live on Grand Cayman this is the perfect getaway for the weekend or the entire week, with friends, family or just each other and reconnect after lockdown and live like you live on an island. Make this a summer to remember and enjoy everything that the eastern districts have to offer.
We take your health and safety very seriously and make sure all of our guests and team follow and respect all COVID-19 protocols and guidelines. You can be 100% confident that your condominium will be imaculately clean and disinfected above the strict standards and requirements specified by the Cayman Islands Government.
'Pick N Mix' your own personal staycation package with your choice of accommodations and activities:-
Accommodation - pick from a 3, 5 or 7 night stay:
One Bedroom Oceanfront or Poolside Condo:
7 night stay in a One bedroom condominium - $1,090.00 KYD
5 night stay in a One bedroom condominium - $780.00 KYD
3 night stay in a One bedroom condominium - $470.00 KYD
Two Bedroom Oceanfront Condo:
7 night stay in a Two bedroom condominium - $1,465.00 KYD
5 night stay in a Two bedroom condominium - $1,045.00 KYD
3 night stay in a Two bedroom condominium - $630.00 KYD
Three Bedroom Penthouse Condo also available
Rates are room only and carry no hidden fees, no additional service charge fees or resort fees. The only additional costs, is for optional housekeeping. A Minimum 3 night stay required.
Eagle Ray's Bar & Grill is open for Lunch & Dinner!
Enjoy our outdoor patio dining venue, located dockside at Compass Point. Open for A La Carte dining every day with Happy Hour Specials and a great new menu. Eagle Ray's is the perfect spot to relax and enjoy the island side of life.

Activities available for both guests at Compass Point Resort and Day-trippers.

East End Boat Diving:
Two tank East End Wall and Reef Dives - $80 KYD per diver
Prepay for 3 or more two tank dives for $75 KYD per two tank
Added bonus, all prepaid dives include FREE NITROX*

* Must be Nitrox certified. Not Nitrox Certified? Why not sign up and complete the online course through PADI Cost $180 USD - and we will and process the certification for Free.
Night Diving: 1 tank boat dive, offered once a week $60KYD minimum of 4 divers.
One Tank afternoon Boat Dives - $60KYD minimum of 4 divers.

Snorkeling Trips:
3 Stop, East End, Coral Reef Snorkel boat trips. $40 KYD per snorkeler and $20 KYD per child under 10yrs of age. Trips offered every afternoon. 1.30pm – 4pm

Diver Certification Courses:
All courses are based on the PADI e-learning portal, so you will need to pay PADI directly and complete the online course prior to commencement of the practical sessions with Ocean Frontiers.
Open Water certification – two (2) full days of pool training and four (4) open water boat dives – Cost $350 KYD *Price does not include the e-learning cost payable directly to PADI.
Advanced Open Water Certification - After completing the PADI online course, Five (5) training dives are required to complete the Advanced Open Water Certification. Cost $300 KYD, includes the five boat dives. *Price does not include the e-learning cost payable directly to PADI.
Kids Programs:
Let us entertain your young ones while you go out and enjoy diving the East End or just sit on the beach and relax.
PADI Seal Team (ages 8+)

The PADI Seal Team is for young divers who are looking for action-packed fun in a pool by doing exciting Scuba AquaMissions. Divers are introduced to underwater photography, navigation, environmental awareness and more. Cost $80 KYD per half day session, plus one time material cost. Ten different AquaMissions available.

PADI Junior Open Water Certification (ages 10+)
two (2) full days of Pool training and four (4) open water boat dives. Cost $350 KYD
*Price does not include the e-learning cost payable directly to PADI.

PADI Discover Scuba Dives (ages 10+)
This half-day program is a great way to try Scuba Diving. The course consists of a short training video, an quick quiz and then off to the training poor to practice skills. Once that is accomplished, it is out on the boat to go out to a shallow dive site and swim among the fish and see our beautiful coral reefs. Cost $80KYD. This is a great group activity for kids birthday parties too!
Marine Science Camp (ages 10 – 18 yrs)
3-Day Camp includes 6 half day subjects with in water activities each morning and afternoon. Learn about coral reefs and reef restoration, fish ID and photography, scuba or snorkel with turtles, rays and sharks and learn about invasive Lionfish with a dissection demonstration. Suitable for snorkelers and scuba divers, and will be geared in two age groups, 10-14 and 15 and over. Participants must be able to swim and be comfortable in the ocean. This program is designed and run by a qualified marine biologist and supervised by experienced dive masters and instructors. $399 KYD per student, or $299 per student group rate.

Kids East End Adventure Camp ( 7 yrs & under)
Half-day camp, CI$80 ea. Per session (4 hours)
Activities include: Swimming and games in the pool, Sand Castle Building, Arts & Crafts, Pirates Treasure Hunt, Outdoor Chalk Art, Puzzles & Games, Physical Exercise and Nature Walks (all children must be potty trained).
The above packages are valid through 2020 during our border closure and are available only to residents of the Cayman Islands.